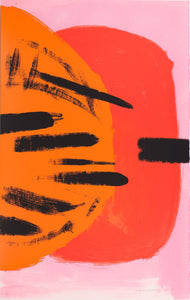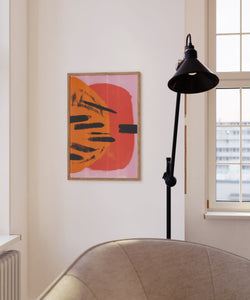 Orange and Red on Pink, 1991
---
Regular price
---
Orange and Red on Pink, 1991
Wilhelmina Barns-Graham

Barns-Graham was born in St Andrews, Fife and was one of the foremost British abstract artists and a member of the influential Penwith Society of Arts after moving to St Ives in 1940 and forming her artistic style and career there. 
"In my paintings I want to express the joy and importance of colour, texture, energy and vibrancy, with an awareness of space and construction. A celebration of life – taking risks so creating the unexpected." (Barns-Graham, October 2001)

In the 90s, Barns-Graham collaborated with artist and renowned printer, Kip Gresham to experiment with creating screenprints of her paintings. In this print, her focus was to keep the colour balance of the red-orange and the red-pink so that the two circles would be in harmony with one another. 

Orange and Red on Pink is a limited edition print, only 100 runs available.
©Wilhelmina Barns-Graham Charitable Trust
Printed on Giclée Hahnemühle Photorag
Frame specification here