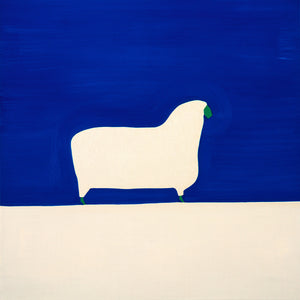 Sheep, 1988
---
Regular price
---
Sheep, 1988
Cristina Rodriguez 

Colombian artist, Cristina Rodriguez, has travelled extensively and has cited South America, Europe and Africa for sources of inspiration in the familiar and extraordinary practices she has encountered.
Although her paints sometimes contain abstract and surreal elements, they are always emphatically figuartive. Characteristics of her work are the bold outlines of the figures or objects, the curve and curl of the forms and the simplified areas of solid colour which clarigy the whole pictorial concept. 
Simplicity and a joyous passion for colour: these are the compositional keynotes of Cristina Rodriguez's art - clearly revealing the lasting impact of a childhood spent in Colombia with it's rich heritage of folk art, primitive art, narrative art, myth and fable. 
Sheep is a limited-edition print, only 100 runs available. 
© Cristina Rodriguez / Bridgeman Images 
Printed on Giclée Hahnemühle Photorag