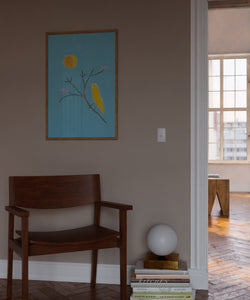 Small Yellow Bird, 2001
---
Regular price
---
Small Yellow Bird, 2001
Craigie Aitchison
Figurative painter Craigie Aitchison is known for his Mediterranean-inspired palette and simple compositions. Combining elements of Italian Renaissance painting with the British visionary tradition, Aitchison's work is uniquely vibrant.
'Small Yellow Bird' may have been inspired by the canaries he kept and allowed to fly free in his studio. They were so at home that they made a nest in an old mattress leaning against a wall, and successfully reared a family.
Small Yellow Bird is a limited edition print, only 100 runs available.
©  The Estate of Craigie Aitchison / Bridgeman Images
Printed on Giclée Hahnemühle Photo Rag