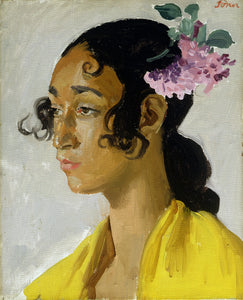 Spanish Gitana, c.1921
---
Regular price
---
Spanish Gitana, 1921
Augustus Edwin John

Spanish Gitana is a post-impressionist portrait of a Spanish gypsy woman by the renowned artist, Augustus Edwin John. 
John was particularly interested in the Romani people and their culture. On his frequent travels around the United Kingdom and Europe, he would stay with them and learnt to speak various versions of their language. Later on he became the President of the Gypsy Lore Society which sought to increase understanding of the gypsy and traveller cultures. 
His works were widely celebrated for a new style of oil sketching as well as for his dazzling figure drawings. Often compared to Matisse and Gaugin, he went on to develop an imaginative style of portraiture that extravagantly captured the essence of his subjects.
Spanish Gitana is a limited edition print, only 100 runs available.
©Estate of Augustus John / Bridgeman Images
Printed on Giclée Hahnemühle German Etching