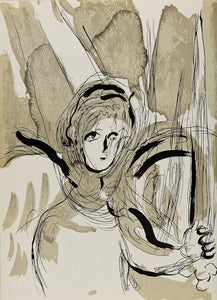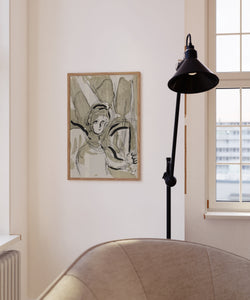 Angel with Sword, 1956
---
Regular price
---
Angel with Sword, 1956
Marc Chagall
In 1956, the art critic and publisher Tériade brought out a special issue of the legendary art magazine Revue Verve, which was exclusively devoted to one of Marc Chagall's major themes: The Bible. For this outstanding issue, Chagall composed 18 full-page lithographs in colours and 12 in black and white. For his "Bible I" (4 years later, in 1960, the follow-up issue "Illustrations for The Bible" was published) Marc Chagall focused on characters from the Old Testament such as the Founding Fathers, the Kings, the Prophets and Angels.
This print contains writing within the border.
Angel with Sword is a limited edition print, only 100 runs available. 
©The Israel Museum, Jerusalem, Israel / © Israel Museum, Jerusalem / 
©The Vera and Henry Mottek Collection / Bridgeman Images

Printed on Giclée Hahnemühle German Etching 
Frame specification here